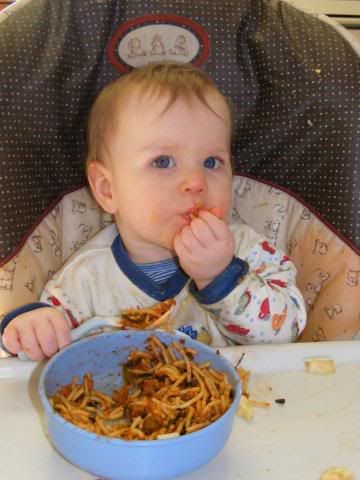 My very last baby seems to be hitting a whole lot of milestones at the same time. Last week he got his first two teeth, followed by him learning how to stand up without support. He is working very hard at taking his first steps but isn't quite brave enough. He still needs to be holding on to something for a wee bit of balance.
In the past few days he has also figured out how to use utensils. We give him a fork or spoon and he dips it into the food and tries to get it to his mouth. For the most part he still uses his hands though. Today I gave him spaghetti for lunch. He will not let me feed him anymore at all so I put the bowl down and gave him a fork with it. It started out well.....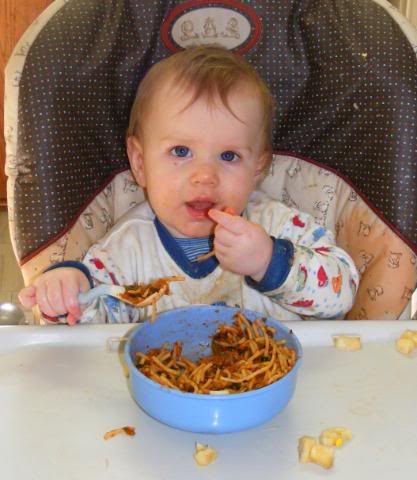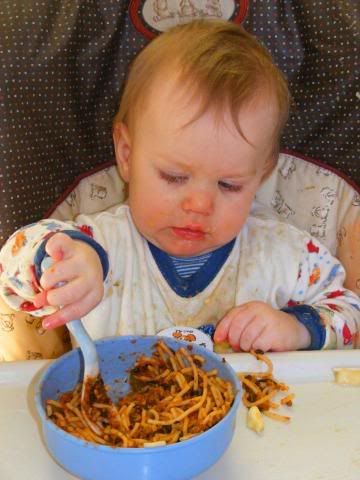 Then after ten minutes of feeding himself you can just imagine what I had to clean up! Well between the spaghetti and the banana it was everywhere! He even managed to get it down his diaper. Hooch had a great time when he finally was done since he got to clean the floor.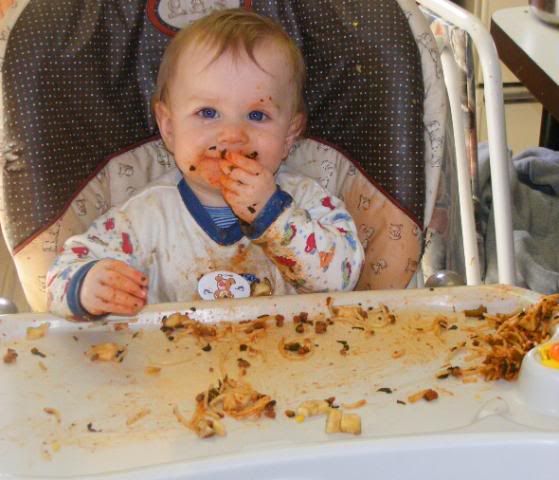 Tyler has always been my smallest child....born three weeks early he never really caught up to what the other two were height and weight wise at the same point. Both Xander and Dylan outgrew their infant car carriers by 6 months, Xander actually grew out of his at 5 months. Tyler is still using his! Last week I finally ordered him a new one figuring he was almost out of the infant one so it was time. It came today....he looks so small in it!
Here is a picture of my baby the first time he was ever in that seat, as well as one from today, and him in his new car seat.