I looked at the carpet in my living room and decided it was long past due for a cleaning. I swear when we own our own home we will
not
be having carpet. The kids spill stuff on it, the dog comes in with muddy feet, Bill always wears his shoes in the house and the reasons go on and on. The carpet which is supposed to be light beige in colour had black spots all over it, to the point where it was just gross. I used to have a carpet shampooer but after several years it finally kicked the bucket a few months ago. Which is half the reason the carpet was allowed to get as bad as it was. We usually rent a good one from the grocery store about once a year and use our cheap one every few months. So it was long overdue and I sent Bill out to rent one.
Here is what the carpet looked like after one swipe with the machine....EWWWWW
So after quite a few 'swipes' with the machine the carpet did come clean :) Minus a nice light green mark where Ty got a hold of a marker....it just doesn't want to come out.
Later in the evening after the carpet was done and dinner was over ( BTW my Lamb roast was delish and everybody loved it!) Xander wanted to play the Wii. So he pulled out the Wii fit ( onto the still damp carpet). He was having a hard time playing though since Ty decided to join in the fun!
Ty making things slightly difficult for Xander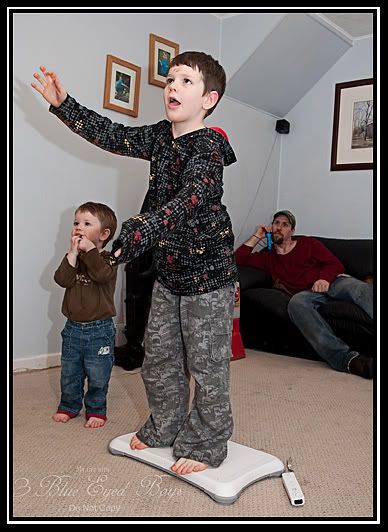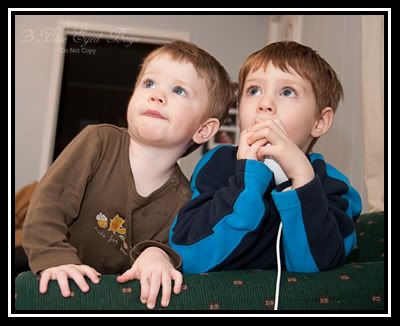 The boys watching Xander play

Thanks for looking :)