Its been a busy weekend around here. Tyler turned one on Friday and we had a little party with the boys on Friday night. I made Ty a
smash cake as well as a train cake. The train was mainly for the other 2 boys. He got a new ride on toy from us and as soon as it was put together he sat on it and started laughing and bopping up and down! Here a few highlights of his little party.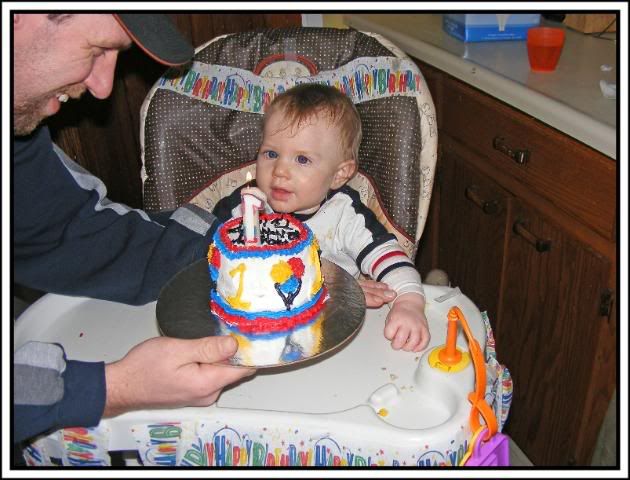 On Saturday I got rid of all THREE kids for a few hours! Bill's mom took them and Bill and I went to Timmins and went to Montana's for dinner. It was so nice to have a few hours of grownup conversation and a nice meal. Bill was so sweet he even took me to Tim Horton's for dessert.......roll up the rim tab for a free doughnut. LOL
Today Xander woke up with a fever probably the same thing the other boys had last week. he seems to be fine though. He laid on the couch playing the Wii all day while Dylan terrorized him. The only peace he got was when Dylan fell asleep on the couch.
And here are a few pics I took of Ty today wearing his birthday clothes Aunt Meg and Uncle Sam mailed to him. His shirt says "I was born to rock" And one more of Bill just because he wanted to know why I was taking his picture so I might as well do something with it!