Siggy....you may be wondering what I am talking about but most people that know me also know that I have recently become siggy -a -holic! I LOVE to make siggies for people, I love getting new pictures of other people to work with all the time and the challenge of creating interesting layouts in a tiny little space.
For the past few days I have been making a few new siggies for p
eople as well as for myself. I have a great teacher who has been teaching me a few new tricks. I have recently learned animation and my newest trick is having th
e pictures fade in and out! I love it, such a cool little tool. Here is an ex
ample of what I learned to do ....
Hopefully that fades right on this blogger program!
So that's my new trick....isn't it awesome! I was also working on a few more and a couple for myself as well. But I can't decide which one I
like more. So I am leaving it up to you all ( I know your out there reading t
his) to leave me a comment ( yes you have to sign up, but isn't it worth it to talk to me???) and tell me which one I should use.
Number 1.....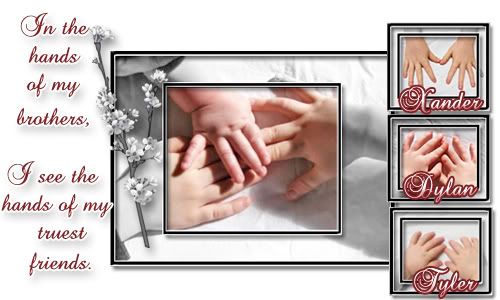 Or Number 2.......
Don't forget......tell me which one is b
etter!
And just for kicks.....here is another one I did yesterday.