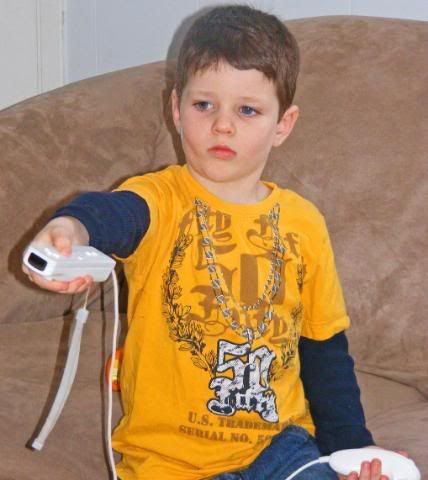 Santa Clause brought the boys a Wii for Christmas this year. At first I wasn't sure if they were going to be too young
for it and if this was going to be a 'big' boy gift more for Bill. Well I was SOOO wrong! I can not keep these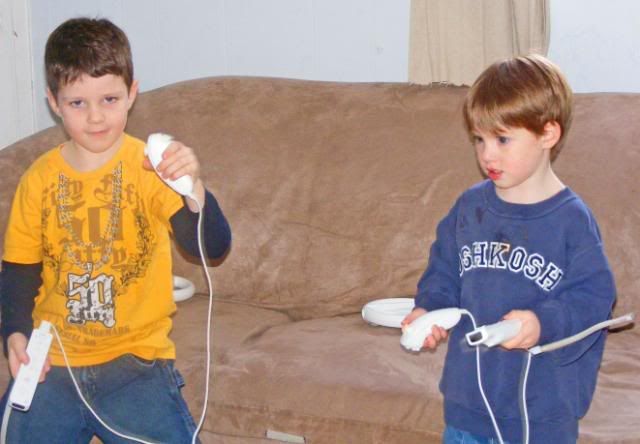 boys off it. The TV

has not been on for 2 days. They have either been playing with their toys or on the Wii. I kept thinking that Dylan was way too young to play but I gues
s I was wrong. Him and Xander play together so well. There are a few games that Dylan just sits there and holds the Wiimote and just
thinks
he's playing, but for the most part any of the sporty games he does really well. He loves to do boxing! Xander has become a Wii junkie.....anything from boxing, horseshoes and tennis to Diego, Kung Fu Panda and Mario Party. He plays them all, and does quite well! Back to school tomorrow after 5 days off so no more Wii for awhile :( I wonder if he is going to go through withdrawal?
These last few pictures are of Tyler today. This is my first chil
d
who CAN NOT stay awake during a meal. I mean he falls asleep in his high cha
ir at least once a day. I feed him then give him some fruit or other finger food and go ab
out
doing whatever and the next thing I know he is sound asleep with his face in his food. The other boys did this once in awhile but not this much...he does it constantly. Here is a picture of him before supper tonight then again afterward. I have many pictures of him with his fac
e in his bowl full of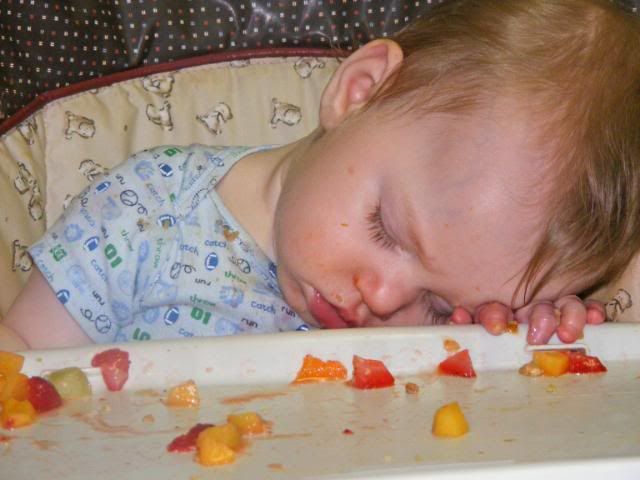 spaghetti as well!